Submitted by lushenejj on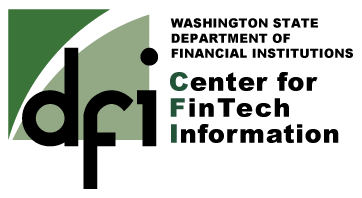 The Director of the Department of Financial Institutions has created the Center for FinTech Information (CFI) within the Agency to facilitate communication between the Department and entrepreneurs, start-ups, and fintech companies.
Please review the materials and links below that answer many commonly asked questions and provide guidance and statements developed by the Department for businesses operating or that plan to operate in Washington.
If you need additional information, please contact the Center for FinTech Information at the following email address: FinTechInfo@dfi.wa.gov
---
Services We Provide
The CFI can:
provide information about doing business in Washington as a regulated entity;
answer questions about Washington's financial laws, rules, and regulations that the Department administers, including those related to money transmission, securities, lending, or banking;
assist applicants in navigating the licensing process; and
review business concepts and/or business plans to identify potential business activities that could be regulated by the Department.
---
---
Testimonials by Industry
As a community bank that is rapidly evolving and navigating new delivery channels, we understand that it is critical that we remain focused on compliance and need a regulatory partner who is responsive and understands the changing technological landscape in financial services. The Washington Department of Financial Institutions has been with us through this evolution, helping us to adapt to the disruption that is occurring in the banking industry and enabling the bank to meet and embrace the changing environment with a more informed view.

Competing and remaining relevant requires that both Coastal and our regulators remain open to new ideas and technologies and quickly developing trends and issues, and that we work together to provide solutions in ways that are both creative and compliant. We appreciate that the DFI is focused on ensuring state-chartered entities not just comply with the law, but are able to remain nimble and viable given emerging technologies.

Eric Sprink | President / CEO
Coastal Community Bank
---