The Washington State Department of Financial Institutions (DFI) is committed to implementing change for greater financial equity for communities of color and other underserved groups in Washington State.
DFI Co-creating Solutions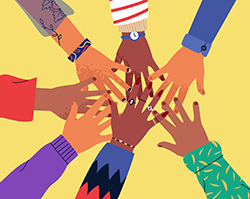 DFI is embracing a co-creation model to implementing Diversity, Equity, and Inclusion (DEI). With the start of our DEI Director in the Fall of 2022, we have been meeting with community and industry groups to learn what a more equitable financial system looks like and our role in supporting change.
Based on what we are learning from engagement meetings, we are initially focusing our efforts for 2022 on how the financial industry can support homeownership and housing. This has included bringing payment assistance resources into continuing education for Washington Mortgage Loan Originators by working with industry and the Washington State Housing Finance Commission.
DFI's plans for implementing change:
Collaborate with us
We know there is a lot more we can do and we want to learn from you and co-create solutions.
Diversity at DFI
The Department of Financial Institutions (DFI) values diversity and inclusion among our staff in carrying out our mission.
We are proud of how diverse we are and strive for our staff to be an accurate representation of the world around us.
We are consistently working to improve representation through our recruiting efforts and are always striving to make DFI a more diverse workforce.
Increasing Opportunities for Minority, Small, Veteran and Women's Business Enterprises
DFI is committed to increasing minority, small, veteran, and women's business enterprise participation in their contracting and procurement activities. If you are a business owner and would like to receive certification, please visit the appropriate link for more information:
Washington State Office of Minority & Women's Business Enterprises
Washington's Electronic Business Solution (Veteran Owned Businesses and Small Businesses)
State of Washington Diversity Resources
Washington State Office of Equity
Governor's Committee on Disability Issues and Employment
Governor's Office of Indian Affairs
Washington State Commission on African American Affairs
Washington State Commission on Asian Pacific American Affairs
Washington State Commission on Hispanic Affairs
Washington State Human Rights Commission
Washington State LGBTQ Commission
Washington State Women's Commission
Contact
Erin Lopez Nielsen, DEI Director
Phone: (360) 688-0004
Email: erin.lopez@dfi.wa.gov