Charles E. Clark, Agency Director
Charlie Clark was appointed Director of the Washington State Department of Financial Institutions (DFI) on April 1, 2019. He first joined DFI in 2012 and served in the roles of Division of Consumer Services Enforcement Program Manager and Division Director before serving as agency Deputy Director beginning in November 2016. Prior to joining the DFI, Charlie represented the DFI as its lead litigation counsel as an Assistant Attorney General from 2005 through 2011. Prior to joining the Attorney General's Office, he worked as an attorney in private practice.

Charlie currently sits on the Board of Directors and serves as President of the American Association of Residential Mortgage Regulators, serves on the Executive Committee of the National Association of Consumer Credit Administrators, and serves on the Nondepository Supervisory Committee of the Conference of State Bank Supervisors. He received his undergraduate degree in Accounting and an M.B.A. from California State University, Sacramento. He received a J.D. degree from the University of the Pacific, McGeorge School of Law.
Rick St. Onge, Acting Director of Consumer Services
Richard (Rick) St. Onge was named acting Director of Consumer Services on April 8, 2019. Rick has been the Program Manager in the CS Examinations Unit since 2012 and served as an examiner and examinations supervisor for many years prior to serving as Program Manager. Rick is currently President of the Money Transmitter Regulators Association and has been actively involved with many CSBS workgroups and committees, including serving as past Chair of the Multi-state Mortgage Committee, which oversees national joint exams.
Roberta Hollinshead, Director of Banks
Roberta S. Hollinshead was appointed as Director of Banks for Washington DFI on December 1, 2016. As Director, she is responsible for chartering and supervising the activities of all Washington state-chartered commercial banks and trust companies. Roberta works closely with stakeholders to promote sound economic development in the banking industry supporting a prosperous economy in Washington.
Roberta's tenure with DFI began in July of 2001 as a financial examiner. Roberta worked her way up the ranks and prior to becoming the Director she served as the Chief of Examinations for the Division of Banks.
Roberta holds a Bachelors of Arts in Business Administration, with a Finance concentration, from the University of Washington. In addition, Roberta has a Master's in Business Administration from Seattle University and a degree from the Graduate School of Banking at Colorado.
Amy B. Hunter, Director of Credit Unions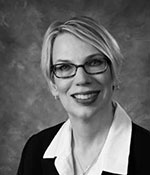 Amy B. Hunter was appointed as Director of Credit Unions on November 1, 2018. The Division supervises state chartered credit unions. Amy is also a member of the Financial Education Public-Private Partnership (FEPPP), which brings together individuals from both the public and private sector in an effort to provide quality financial education for students in the public school system.
Amy has been a regulator for over 20 years. Prior to DFI, she was the Deputy Director for the Washington State Gambling Commission, a regulatory, licensing and law enforcement agency. Amy began her career at the Gambling Commission as a staff attorney and then promoted to Administrator, where she led the agency's legal department, rulemaking, communications, and media work. In addition, she worked on legislative issues for 17 sessions.
Amy has a B.S. in Sociology/Criminal Justice from Kansas State University. She earned her J.D. from the Seattle University School of Law, where she graduated cum laude.
William M. Beatty, Director of Securities
William M. Beatty was appointed Securities Administrator of the Washington Securities Division in July, 2010. Bill's career at the Division began in 1986 and he has served stints as a staff attorney, general counsel, and program manager.
He has served on various North American Securities Administrators Association (NASAA) project groups, task forces, and committees since 1990. He is currently NASAA's President.
He received a BA from the University of Puget Sound and a JD from Seattle University School of Law.