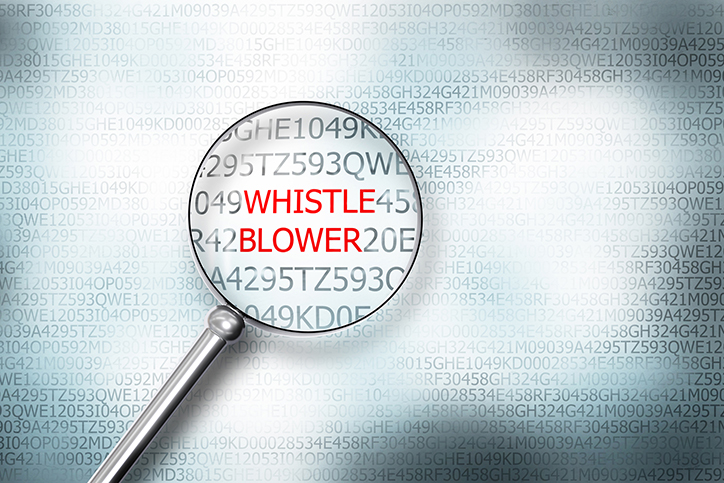 On Aug. 31, 2020, the North American Securities Administrators Association (NASAA) adopted a model state law that is designed to incentivize individuals who have knowledge of potential securities law violations to make reports to state regulators in the interest of investor protection.
In a press release announcing the adoption of the Model Whistleblower Award and Protect Act (the "Act"), Christopher W. Gerold, NASAA President and Chief of the New Jersey Bureau of Securities stated "Providing a safe environment for whistleblowers to come forward can lead to the earlier detection of securities law violations, which, in turn, provides regulators with greater opportunities to prevent harm to additional investors by disrupting alleged misconduct sooner."
Washington State DFI's Faith Anderson spearheaded the development of the Act as a member of NASAA's' State Legislation Committee.
The Act provides not only for monetary awards to whistleblowers, but also protects those who make whistleblower complaints from retaliation by their employer. The Act draws upon the whistleblower award provisions contained in Section 922 of the Dodd-Frank Wall Street Reform and Consumer Protection Act of 2010 and the SEC's related rules in Regulation 21F, in addition to the whistleblower laws enacted in Indiana and Utah (Indiana Code § 23-19-7, and Utah Code § 61-1-101 et. seq.). In summary, the new model act promulgated by NASAA:
Provides a state's securities regulator with the authority to make monetary awards to whistleblowers based on the amount of monetary sanctions collected in a resulting administrative or judicial action.
Allows individuals to make anonymous whistleblower complaints if represented by counsel.
Provides that if the regulator exercises its discretion to make an award, the aggregate amount of awards made in connection with an administrative or judicial action shall be 10-30% of the monetary sanctions collected.
Sets forth certain non-exclusive factors to be considered in determining the amount of an award.
Disqualifies certain individuals from being eligible to receive a whistleblower award.
Prohibits retaliation by an employer against an individual who reports information concerning a potential state or federal securities law violation to the state or another law enforcement agency or against an individual that makes an internal report to a supervisor or compliance officer.
Allows lawsuits against employers that unlawfully retaliate against whistleblowers and establishes the type of relief that may be obtained.
Exempts information that would identify a whistleblower from public disclosure.
Invalidates confidentiality agreements to the extent they would impede communications with the state securities regulator concerning a potential securities law violation.
Invalidates waivers of the rights and remedies available under the Act.
Contains an optional bracketed provision granting rulemaking authority under the Act to the securities regulator.
Before the law becomes valid in a state, the state's legislature would have to pass it into law. The Act makes clear in a prefatory note that the source of payment for whistleblower awards should be separate from the operational funds of the agency.
The two states that have already enacted whistleblower award legislation have made two whistleblower awards. Since Indiana's law was enacted in 2012, the state made one whistleblower award in the amount of $95,000 1 in connection with a $950,000 settlement with JPMorgan Chase Bank, N.A. and J.P. Morgan Securities LLC. 2
In the press release announcing the whistleblower award, the Indiana Secretary of State indicated that this case was "a perfect example of why the whistleblower statute is in place" because in the absence of the whistleblower complaint "the office would not have uncovered this issue and Hoosiers would still be at risk. Thanks to [Indiana's whistleblower law], we are able to provide a safe environment for individuals to come forth and protect Hoosiers from wrongful securities practices." 3
Utah has also reported making one whistleblower award since its whistleblower legislation was enacted in 2011. In its first whistleblower award, the Utah Securities Division awarded $15,000 to a Utah financial adviser who reported a suspicious investment sold to one of his clients. 4
1 JP Morgan Whistleblower Awarded $95,000 First whistleblower award in the state, Indiana Secretary of State (Aug. 19, 2016), available at https://calendar.in.gov/site/sos/event/sos-jp-morgan-whistleblower-awarded-95000first-whistleblower-award-in-the-state/
2 In the Matter of JPMorgan Chase Bank, N.A. and J.P. Morgan Securities, LLC, Cause No. 16-0003 CA (July 27, 2016).
3 JP Morgan Whistleblower Awarded $95,000 First whistleblower award in the state, supra note 1.
4 Securities Commission approves first whistleblower award for $15K since S.B.100 Securities Fraud Reporting Program Act passed in 2011, State of Utah Department of Commerce Securities Division (May 22, 2014), available at https://commerce.utah.gov/releases/14-05-22_sec-whistleblower-award.pdf.